Directions
The black star leads to Abyss (Entrance).
At the end of the map, the white dot sends the player back to where the teleportation crystal is located.
Treasure Chests
Chest #
Items
1
Bottle of Pear Juice x5
2
Heavy Axe
3
Glowing String
4
Glowing Flintlock Pistol
5
Empty
6
Empty
7
Magnificent Umbrella
8
10000 Yen
Red dot
Crystal. Allows to learn skills:

Hina - Catastrophe
Boss Encounters
Shingyoku (Encountered in the room with the crystal)
Map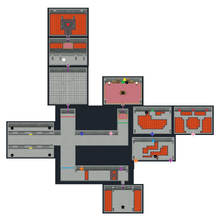 (A colored line [excluding the purple lines] indicates that area is blocked off by spikes. The specific required switch to deactivate them is marked with colored triangles.)
(On a specific area, spikes are acting as walls, and that particular area is using Event Tile viewing for sake of understanding the map. The hint to pass through is marked with a green square. After the boss fight is completed, the player will just directly teleport to the other side.)
Community content is available under
CC-BY-SA
unless otherwise noted.